Wartime recollections of New Farm Park
Many a meeting in New Farm Park is memorable for park visitors, but this wartime recollection from Jim MacDonald, a boy at the time, is still fascinating 80 years on.
Mr MacDonald penned his memoirs which included experiences when growing up at 16 Oxlade Drive, New Farm.
Born at Ellendene Private Hospital in Brunswick St, he lived in New Farm until he was married, travelled all over Australia and the world for work, and has now lived in Hamilton for 25 years.
During wartime in the 1940s, he chanced upon a young American boy in the park:
I was walking home from school and took a short cut through New Farm Park which was on Mother's instruction, not to be done. Well, in the park I became aware that there were US servicemen holding rifles standing beside the trees.
"Oh boy, I'm in trouble," I thought. "The Japs have landed. I'll never reach home to save Mum." I came up the hill and there were two big black cars and a couple of military vehicles and a number of people. I had to walk close to this group to exit into Oxlade Drive.
Then a tall lady spoke to me. "Hello," she said. "My name is Mrs Jean and this is my son, Arthur. We have come down to have a play in your beautiful park. Would you like to say Hello?" I did too, cementing the US-Australian relationship. The meeting was repeated a number of times in the future. Not a word to Mother!
Needless to say, 'Arthur' was the son of the famous General Macarthur who was in charge of operations to save Australia from possible invasion.
***
Mr MacDonald was an enterprising boy who devised many ploys for making money for the family:
I picked up clothing discarded by the Yanks including shirts and shoes and the like. I on-sold this to the Australian gardeners in the park. Remember that clothing etc. was rationed and people happily bought any cloth and remanufactured it into something they needed.
The Yanks had a PX store near the park kiosk. They often passed through this on their way to take recreational leave. Cigarettes for Australians were in very short supply. The Yanks had oodles. They would pick up a carton of 200 and throw away any odd packs they had on them.
We kids would pick these throwaways and carefully repack them into a suitable pack – then sell them to, again, the gardeners.
***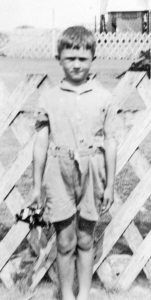 The US soldiers were to provide yet more excitement for the young boy when they not only offered him a ride to New Farm State School in their jeep but gave him ten shillings of pocket money.
New Farm Park was also the venue for Christmas Celebration of the Valley Presbyterian Church in Warner St, Mr MacDonald recalls:
Here they staged races, etc. with prizes to all the competitors, whether you finished or not. As the range of competition was often small, it was easy to pick up a prize from out of your class.
Email admin@newfarmpark.com.au with your own story of New Farm Park, including your contact details. Photos enthusiastically encouraged!